How to make a positive change for your patients…
While the most comprehensive and effective way to implement ONE VOICE in your facility is to use the utilize the PowerPoint Package, we have a variety of packages to meet your needs. Our full version PowerPoint packages also include ONE VOICE posters to place throughout your facility (staff break rooms and patient rooms and exam rooms work great), as well as our ID badge cards, so that staff will always have the ONE VOICE approach at their fingertips.
Visit our PRODUCTS page to find everything you need
With the PowerPoint package you'll receive: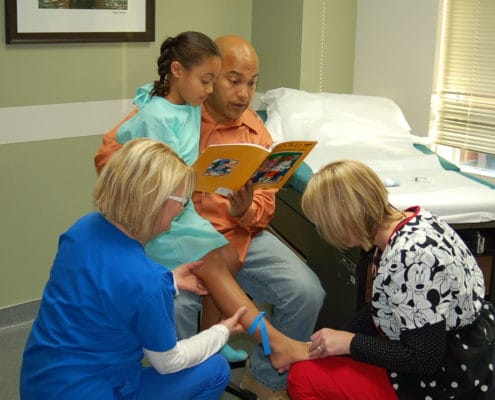 ​Full version PowerPoint – This ONE VOICE training PowerPoint was developed for use by child life specialists and other medical personnel to help teach the ONE VOICE approach and includes the "less effective" and the "better way" video clips.The PowerPoint is a comprehensive teaching tool that covers all elements of the ONE VOICE approach and includes comfort hold photos. Average length to do this presentation is 35-45 minutes. ADOBE READER needed to run presentation.
PowerPoint presentation handouts: Can be printed to provide an accompanying set of handouts for attendees.
Short version PowerPoint – This shortened version can be used for hospital annual competencies. Because this short version was designed as a refresher, some of the supporting information has been left out, but all the highlights are included. This version is not recommended to be used as the main training tool. This file comes as a .pdf and should compatible with most hospital intranet systems for use during annual competency review.
Posters
Two poster sizes are available and with the PowerPoint Package, you'll receive both. Place posters throughout your facility to remind staff of the ONE VOICE approach. Patient rooms, exam rooms and staff break rooms are great places to promote visibility and awareness.
ID badge cards
Our ID badge cards are a great way to help staff always have ONE VOICE at their fingertips!