Stardust Lullaby – Winner of 9 National Parenting Awards! Stardust is a unique collection of traditional and original lullabies for young and old alike. Omaha residents, Cher & Gene Klosner (KLOZE-ner), a sister-brother, singer-songwriter duo, originally from Omaha, Nebraska, have been performing their smooth, signature harmony-driven acoustic sound across the United States for many years. Their rich, intricate vocals have been described as "audible chocolate." This is MY favorite lullaby CD, but it's ALSO great for adults to help you relax!!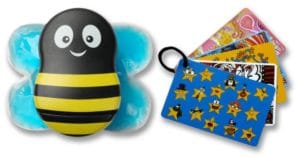 Buzzy – Buzzy® uses natural pain relief by confusing your body's own nerves and distracting attention away from the poke, thereby dulling or eliminating sharp pain. The bee vibrates, and a specially prepared ice pack fits underneath. With cold and vibration, in the same way that rubbing a bumped elbow helps stop the hurt, or cool running water soothes a burn, Buzzy decreases sharp pain.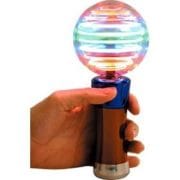 Playopolis Distraction Toys – As a member of the Child Life Council, PlayopolisToys works closely with child life professionals to provide diversion for hospitalized children. Distraction Toys reduce stress, increase cooperation, and offer much needed fun to children undergoing procedures and coping with illness or injury.